Motocross & Enduro Bike Products
Öhlins shock absorbers are made for motocross and enduro applications and are available for the entire spectrum of riders, from world champions to talented amateurs.
Everyone wants to have a shock absorber that enhances their bike and spurs them on to greater performance. With the improved traction and stability that the Öhlins shock absorber offers, the ride becomes safer and more secure. With an Öhlins shock absorber, lap-times are forced down somewhat, speed out of corners is increased slightly and safety margins are raised.
An Öhlins shock absorber improves the motorcycle's performance. This applies to everything from comfort and traction to stability and bottoming resistance. Everyone who tries the standard shocks first and then uses Öhlins shocks, immediately feels a substantial difference.
However good Öhlins are at designing customised shocks, we naturally 'tweak' them to suit individual riders, after all, all riders have their own style and their own requirements. Our shocks can also be adjusted externally to reflect the current conditions of the track ensuring the best performance at the time.
An overview of the Öhlins shock absorbers, TTX cartridge kits and front forks BG Motorsport has to offer can be seen below. If you would like further information then please feel free to contact us or visit the Öhlins website.
TTX Fork Cartridge Kit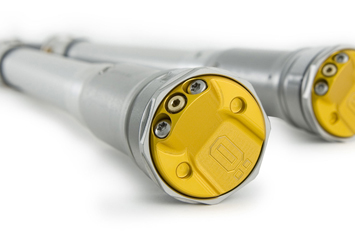 Easy 'bolt in' installation into your original forks
Gas pressurised damping system gives immediate damping response
Lightweight design
No more internal cavitation of oil
Revised piston & check valve designs
TTX Flow / TTX46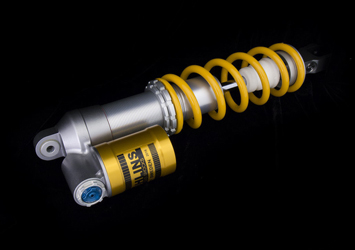 Newly developed shock featuring TTX-technology
46 mm piston and 16 mm piston rod
A new 58 mm gas reservoir on majority of applications
Improved bottoming resistance through new design of bump rubber cup
Compression and rebound adjustments with indicator
Simple spring change due to new spring clip design
Wide range of springs
Most new and recent MX and Enduro models covered
New Shocks for 'Schoolboy' MX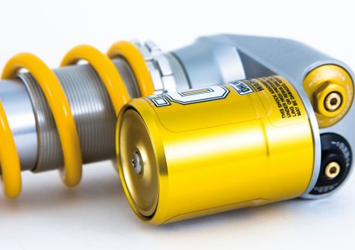 TTX30 'Piggy Back' for KTM SX50- Mini Twin tube Technology!
New STX46 for 85 & 150cc bikes with 3 stage high speed damping adjuster, technology based on the TTX44 MKII.
Lightweight aluminium designs
Fully serviceable
Spring Kits & Oil Upgrades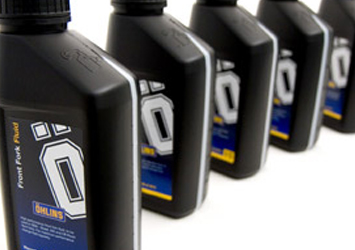 Get the perfect spring rate to suit your weight/ability to ensure maximum performance
Highest quality springs available for minimum friction
Improve temperature 'fade' using Öhlins fluids front & rear
Titanium shock springs available for ultra lightweight installations
RX-F 48 Front Fork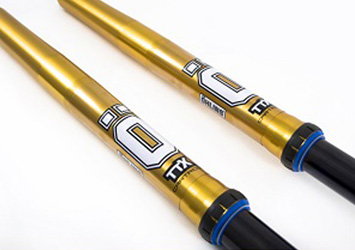 New Ti-oxide coating technology on lowers
New outer tubes
Dramatically reduced friction levels
New material for lowers to make them even more durable