Eibach Suspension
BG Motorsport is an official Eibach suspension ERS (Eibach Race Spring) Set Up Centre in the UK. As well as setting up race springs for competition use, BG Motorsport also supplies the full Eibach range including Pro Kit springs, Sportline Kit springs, anti-roll bars (sway bars) and wheel spacers.
The Eibach Pro Kit (lowering kit) lowers the centre of gravity by lowering the vehicle by upto 1.5″ (40mm) thus reducing the squat during acceleration whilst at the same time reducing body roll in corners and excessive nose-diving under braking, resulting in improved handling and a sportier look. Eibach Pro Kits are designed and tested by suspension engineers and performance driving professionals to deliver aggressive good looks and high performance handling without compromising safety or ride quality.
A technical overview of the Eibach suspension products that we offer can be found below but if you have any queries then please get in touch or for more information you can visit the Eibach website.
ERS (Eibach Race Spring)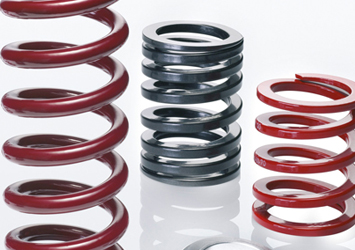 Eibach LIFETIME warranty
Ultra lightweight designs for length & rate
Maximum strokes from shortest open lengths
Precision tolerences
Guaranteed rate & linearity within 2%
Minimal side loading relative to spring axis reducing internal friction on the damper
Can be stacked together (with use of coupling spacers), or in conjunction with tender or helper springs to achieve sophisticated progressive rate systems
Eibach Pro Kit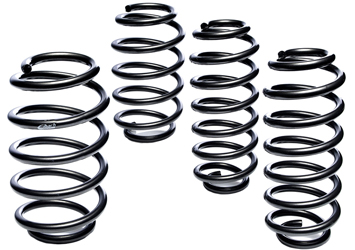 Performance spring kits for road & sports cars
Progressive spring designs
Lowers ride height (Around 25 mm typically)
Reduces excessive roll & dive comparative to original equipment
Handling upgrade while still retaining comfort levels
Eibach Sportline Kit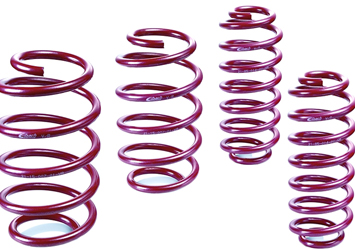 Performance spring kits for road & sports cars
Eibach's most extreme lowering sports kit
Progressive spring design
Up to 50 mm lower ride height for extreme look & performance
Handling upgrade while still retaining comfort levels
Reduces roll & dive dramatically
Anti Roll Kit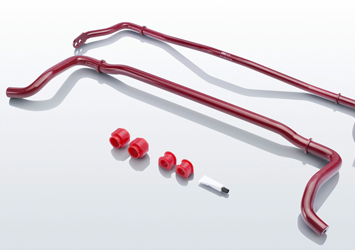 Performance anti roll bar (sway bar) kits for road & sports cars
Reduces excessive roll without compromising ride quality
Manufactured from cold formed, high strength aircraft grade steel
Durable powder coated finish
Comes with all mounting hardware & instructions
Increased stiffness over original equipment